Tonight we had something I haven't made in ages ..Potato Pancakes delicious when they are hot and crisp! Belly bombers cold and soggy!
Served with roast pork, apples sauteed in apricot brandy, and broccoli...
Here they are frying...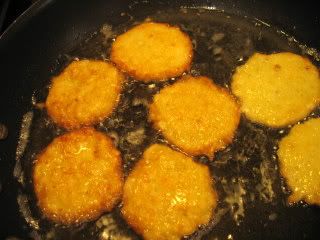 I like them with sour cream, or apples, so we had both!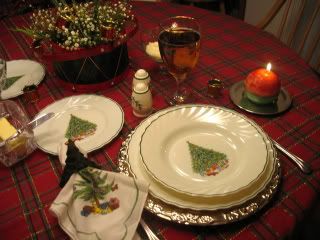 1 sm. onion.. 2 eggs.. 2 tbsp.flour 1.. tsp. salt.. 1/2 tsp. pepper.. Oil. Applesauce and/or sour cream
Peel the potatoes and grate them into a bowl..
Squeeze out the extra liquid into the sink.
Peel and grate the onion and add to potatoes.
Add the eggs,flour,salt, and pepper to the above mixture and mix very well.
Heat the oil in a skillet or electric frying pan on medium heat until it sizzles. Carefully drop the batter into the hot oil with a large cooking spoon, I used a small scoop I use for cookies..
flatten each latkes with the spoon.
When the latkes are golden brown, carefully turn them over. Fry on the other side until brown and crispy. Place latkes on plate covered with paper towels.
Try not to eat them while they drain, or you will have to grate more potatoes and start all over again...not that it would ever happen..:)
About the dishes...
They are made in France ....ooh la la...
They are called NOEL by the House of Salem...
I think I got them in 1988...my Aunt died in Nov. and she had 6 kids, the youngest being just a year older than my son. I thought it would be good for them to have Christmas dinner with us, and they agreed..
.
So there would be about 28 of us ..
I had service for 12 of my good china, so I needed to get dishes for the crowd.
I had seen this set in a store called THE COUNTY DUMP..I kid you not..
It was like an ODD LOT only odder...you never knew what you would find..
I stayed away from the dented can section, but sometimes they had some very good things.
You just had to keep looking, and when the parking lot had a lot of BMW's instead of old Chevy's like mine, you knew a new shipment of good stuff came in..once they had beautiful bedspreads etc. from the Spiegal catalog..
But I digress...
After work I went to the closest one and scooped up a few sets, then traveled another 25 mi and scored a few more...still short, went another 25 mi to get what I needed...YKW ( you know who) wasn't happy when I finally rolled in, car brimming with boxes of dishes...
So I have service for 28 minus 1 cake plate, which someone took home with cake and never returned..
So if any of my relatives are reading this, please bring it back..no questions asked...:)
Last year on a whim, I looked on ebay, and someone was selling a set still in the box...but my days of serving that many are over...so I passed..