Every Christmas, sometimes Easter too, my husband makes a few big batches of rugelach. Rolls the dough into discs, wraps in saran, and refrigerates till the next day.
He assembles all his ingredients in little bowls, nuts, raisins, chips. cinnamon sugar, apricot, prune butter, raspberry preserves.
Each disc is rolled into a rectangle on a cutting board, approx 6"x 24" and the filling is placed all over the top,sprinkled with cinnamon sugar, then rolled.
Chill again, and then cut into about 1 1/4 " pieces. Place on baking pan and sprinkle with cinnamon sugar..
.
Bake at 350 for abt 20 min till they get a little color..don't over bake.
When cool, sprinkle with conf sugar...
He does such a good job, I will let him make them any time. I don't want to learn how! :)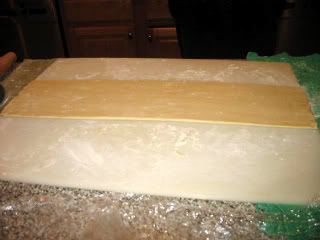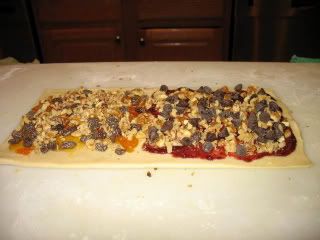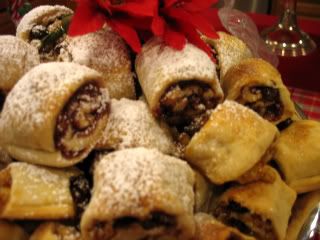 If you have only had store bought, you must try these...A world of difference..
Dough
2 Cups flour
8 0z cream cheese
8 Oz butter (if you use salted, omit the salt)
pinch of salt
1 t vanilla
1 1/2 t baking powder
1/2 t cinnamon
grated lemon rind optional
Mix all ingredients in a stand mixer. Separate into discs, wrap and refrigerate overnight.
Roll out each disc place filling, and follow directions and pics above.
Wipe off all tell tale signs of conf sugar while tasting each variety...:)
Over the weekend, WFD&more had a Darling Baker event. My contribution was Butter Spritz...
And meat pies, Tourtiere, a traditional food served on Christmas Eve in Canada.
My friend at http://latabledenana.blogspot.com/, gave us her recipe...go check it out at her beautiful blog...