A long time ago when the earth was green...oh wait, that's a song lyric..
OK..
Many moons ago, when I first started teaching, my next classroom door neighbor was a lovely gal named Gail.
She was the voice of experience....Yes, she had been teaching 6 whole months.
In those days, there was no mentoring, you were on your own. Lots of questions, no one to ask...So we muddled through with 32 kids each , helping each other...
Gail is a very creative, artistic person. At the end of my first year,, she moved to California with her wonderful new husband..(She got married in February in one of the worst snow storms!)
She gave me all her classroom decorations and patterns, and for the next 32 years not a year went by that I didn't use her ELF pattern for the holidays.
The kids loved them, they could pick their own hair style and hat, etc, and let their creativity run wild.
A few years ago I got an email from a former student who told me her mom still has the faded elf made from oak tag and construction paper!
Through the years we have kept in touch. She only stayed in CA a year or so, but she never came back to my school, which was a loss for the district. She was a wonderful teacher...
And an excellent friend...We have both had our share of life's slings and arrows, but we are both blessed with a great family and wonderful grandchildren who fill our hearts!
Another thing Gail gave me was this recipe for sausage bread...
In her own writing...can you read it??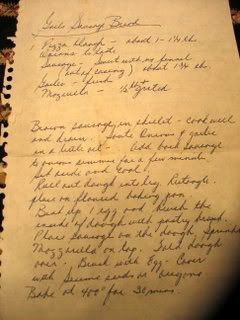 Start with sausage...( I really made these..pork butt, grind, spices, casings, stuff....umm.. made it once..good thing I took a pic!)
Remove the casings, and saute, take out and drain..
Saute your sliced onions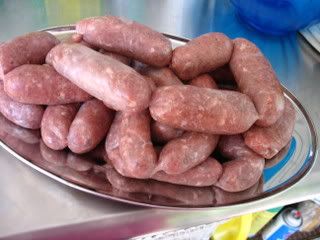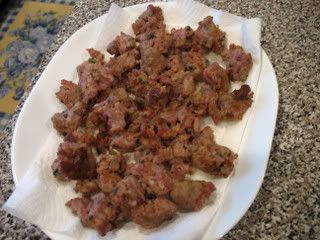 Let your dough rise...
Roll out to a large rectangle,
Place your dough on a cookie sheet, brush with egg...
Place the sausage, onion, and cheeses down the middle..
Fold one side over, then the other and tuck under...
Brush with egg and sprinkle with sesame seed....
Bake and this is what it looks like when it is done...(the one pictured is a doubled recipe).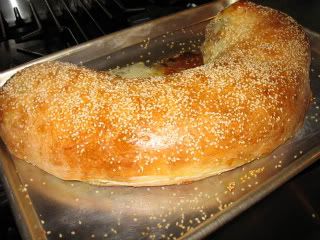 Let it sit a few minutes before cutting...the men enjoy this tasty stuffed bread.. It can be served as an appy or a meal with a salad...
Thanks, Gail...for everything!