Today is the last day before Lent begins, time for a little Mardi Gras celebration...
A few of my blog buddies are celebrating too....Suzy, a sweet Southern gal originally from Louisiana, is hosting our little party..
Please stop in at her blog,
Kitchen Bouquet
to find out where to start the "blog crawl" ( instead of a Pub Crawl, a favorite activity of the younger generation) in celebration of Mardi Gras...
Oh, and please come back for our St. Patrick's Day celebration. We had one last year on Garden Buddies, a forum where we congregated to chat and share recipes...It was so much fun, we decided to do it again...
You are all invited! Mark the date, and there will be a Mr. Linky for you to sign up.. More details later...♣♣♣
So first a little table....Louis Armstrong and Pearl Bailey were the guests of honor...Helloooo Dolly! It's so nice to have you back where you belong...:)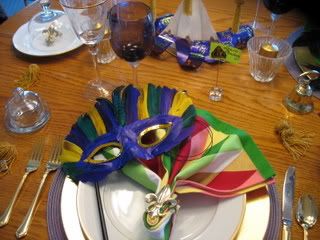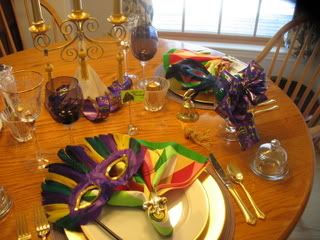 Pancakes are traditional on Shrove Tuesday, so I made Abelskivers filled with chocolate...and some fruit on the side...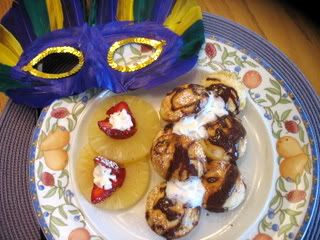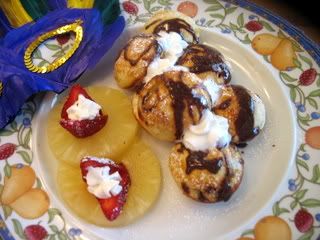 They were good, but I don't know I'd make them again with chocolate for breakfast. The last time I made them I used a recipe Carol gave me, and used apples , and we liked them better.
This recipe was a WSonoma, which required separating eggs, whipping the whites, then folding in...don't know they tasted any better than the simpler one...
Happy Mardi Gras...please visit Suzy at Kitchen Bouquets linked above.. to see some authentic recipes...
Thanks for coming to the party...Hope you got the baby in your piece of King Cake!