Friday means Food!
Please join Gollum for other
Foodie Friday
entries.
I am also joining Suzy in Flashback Friday.
Kitchen Bouquet
is her place, pop over and say hello!
Tonight I am sharing a recipe I got from Sol when she posted it on the Cooking Forum at Garden Web. If you haven't seen
Sol's blog
you are in for a treat. She is one very talented and funny lady!
These are a cross between a doughnut and a muffin...She calls them
Dirt Bombs..:)
I added some chopped apples to some and was happy with the result..
Here is the recipe as posted on CF...
Dirt Bombs
Yields: 12 muffins*
3 cups AP flour, minus 3 tablespoons
1 tablespoon baking powder
½ teaspoon salt
½ teaspoon ground nutmeg
¼ teaspoon ground cardamon
¾ cup (1 ½ sticks) unsalted butter
1 cup granulated sugar
2 large eggs
1 cup whole milk **
Topping ***
¾ cups unsalted butter, melted
½ cup granulated sugar
1 ½ teaspoons ground cinnamon
Preheat oven to 400º F. Place the rack in the center position. Generously grease a 12-cup standard muffin pan.
Sift the flour, baking powder, salt, nutmeg and cardamon into a mixing bowl. In another bowl, cream the butter and sugar until light and fluffy. Scrape the bowl down half way through. Mix in the eggs. Add the dry ingredients alternately with the milk in two additions, mixing gently by hand to incorporate all the flour. The batter will be on the stiff side, but airy. Don't over mix or beat the batter as this will make the muffins tough. Spoon the batter into the prepared pan, without smoothing the tops. Bake for about 25 minutes or until a cake tester inserted in the center comes out clean. As soon as the muffins are cool enough to handle, turn them out onto a wire rack.
Add the melted butter to a bowl. In another bowl, mix the sugar and cinnamon.
Dip the muffins (top, sides and bottom) in the butter, using a pastry brush -if necessary- to cover areas not buttered by dipping. Immediately roll the muffins in the cinnamon sugar mixture. Serve warm or at room temperature.
*I've made this twice, and both times, this recipe has yielded 16 muffins instead of 12.
**I substituted whole buttermilk for whole milk because I always have it on hand and prefer it for baking.
*** The amounts listed for the sugar and cinnamon are not quite enough to coat all the muffins, so I recommend you double it.
Sol
My notes...
I chopped some apples, tossed them with sugar and cinnamon and added to the batter.
I got 12 muffins..
Hope you enjoy them...
Tonight's Flashback...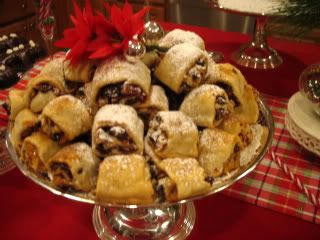 Mike's Rugelach...you can see the directions and recipe post
here
....
Thanks for your visit...