Tablescape Thursday
Now Bloggers dear, I'm sure you've heard
St. Patrick's Day is near
So welcome to this Irish Crawl
It's in its 7th year!
Lots of GREEN will flood your screen
Please get up and do a jig
Be you Italian, French, or German
Or as IRISH as Paddy's Pig!
From Kansas to Ohio
And Kerry to County Cork
We'll celebrate dear Ireland
Starting here, Long IRELAND, New York!
Please have some Irish Chips
They're GREEN but not too fancy
You know they'll be delicious
Because they're made by Clancy!
Please warm up at the table,
Relax and take a seat
We'll sing some Irish songs
They'll make you tap your feet!
A table in your honor
So glad to have you here
Crawl on, crawl on to other blogs
Leave comments of good cheer!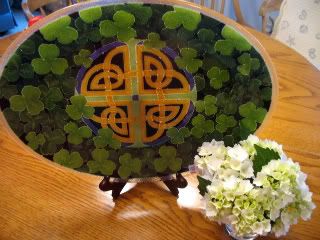 Table notes:
Debut of my Cabbage plates…Christmas Tree Shops
Quilted reversible light green patterned placemats…CTS
Green flatware…World Market
Green Stems… Gorham via Lenox Outlet
Shamrock mugs, pitcher and salad plates and shamrock shaped bowls… CTS
Toadstool name markers…WSonoma Outlet
Centerpiece…Hurricane globe with candle surrounded by hydrangea and fresh Baby's Breath
Platter CTS
Salt and Pepper…Pfaltzgraff … Napkins Century 21…Napkin rings a gift from my sister many years ago!
Now to link up, PLEASE
Leave a comment
Link back to this party so your readers get to see the other entries
Only one link, must be Irish related and not an old post. ONLY LINK IF YOU DISABLED WORD ID
Blog name first, there's room for the title
PLEASE DON'T LINK UP UNLESS YOU HAVE TIME TO VISIT AT LEAST 5 OTHER ENTRIES.
It is so important to me that you visit as many as you can. We won't have 100's of entries.
Some of you have been here for all 7 St. Patrick Day Blog crawls. Thank you for your support, and welcome to new participants!
A minty chocolate shamrock, to send you on your crawl!
Happy St. Patrick's Day to ALL!
I will join Between Naps on the Porch for Tablescape Thursday